Top 27 Meditation Accessories To Improve Your Life
Have you ever felt caught up in the perplexities of your daily existence? Did you ever feel confined by the urban cacophony? Can't you figure out what exactly you want from life? Well, it's time that you give life some time. It's high time to find yourself, introspect, and act accordingly. And, nothing other than profound and tranquil meditation can offer you the much-needed solace. To make out the most of your meditation plans, here we have the top 10 meditation accessories that are surely going to gift you an improved lifestyle.
Keep in mind, meditation is not about mindful contemplation. For that fantastic "oh-so-refreshing vibe," it's crucial to devote ten to twenty minutes from your busy schedule for meditation, a state of being calm, composed, and quiet self-realization.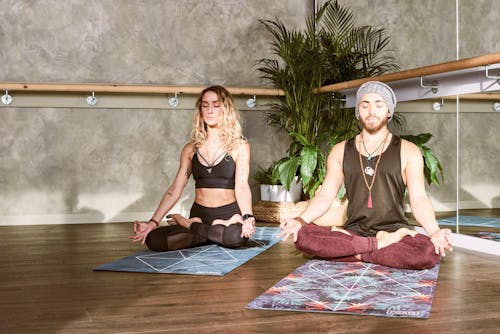 Here we have rounded up the top 27 accessories that are going to give you the best of benefits.
Top 27 Meditation Accessories
1. Buddha Stick Incense Holder
We're kind of sure that you know how effective is the sweet smell of incense stick for deep meditation. And, when you have a beautiful piece of incense holder, it's even more fantastic. Just imagine, you are in your meditation deck, and the soothing fragrance and light soulful music are comforting your soul.
The one we are talking about features a vintage look with a ceramic body. The very design reflects a blend of contemporary and traditional. Hence, it also works as an accent piece that can effortlessly glam up your living room, tea room, and bedroom alike. SO, even if you do not have a separate meditation or yoga room, you can practice it right in your living room.
A small and functional item, this product can beautifully hold incense sticks.
2. Chakra Healing Crystals
Maximize the benefits of meditation with chakra healing crystals. As you know, meditation is more of a cleansing exercise, which further results in the rejuvenation of mind, body, and soul. With chakra crystals, you can achieve full-fledged benefits.
The raw crystals in the bracelet are unlike the conventional products available in the market. Being unspoiled (natural), the crystals are likely to generate the best effects. As a result, the product is ideal for Reiki therapists, vibrational healers, and others who deal with energy.
The product is made from stones like Amethyst, Sodalite, Clear Quartz, Red Jasper, Green Aventuri, Red Adventurine, and Topaz. The bracelet is 7 inches, which means it's pretty flexible for every wrist size. Wear this crystal bracelet at the time of meditation and reap the most significant benefits. It also makes a perfect gift for Birthdays and Christmas.
3. Lotus Incense Burner Holder
The relaxing scent of incense burner can bring the maximum benefit of your meditation. Its soothing effects on you help you fight with diseases like sleep apnea. Simply keep this product besides you whenever you are meditating.
Portable and easy to carry, you can pack this incense burner holder wherever you travel. Plus, this product is made from enamel pottery, which makes it pretty durable.
4. Mini Golden Meditation Buddha Statue
The benefits of meditation are better felt when you have the right accessories, and this mini Buddha statue is going to give you a positive vibe. Experts often say that such a statue in your meditation room helps you concentrate and contemplate, thus producing the maximum benefits.
However, this handmade Buddha statue often serves as a décor piece. It brings wealth, luck, and prosperity to your home. This exquisitely detailed statue is a perfect visual treat and will effortlessly glam up the nook where it will be placed.
5. Starry Night Galaxy Decor Psychedelic Tapestry
If you have ever thought about a completely decked up space for your meditation room, you are surely going to need this fantastic tapestry. Why? Because this exotic piece of wall décor is just amazing and adds up to the ambiance of a tranquil meditation room.
The galaxy themed décor is ideally in line with your meditation room décor. Moreover, it intensifies the contemplation, thus having a comprehensive effect on the mind. Available in various other color choices, this psychedelic tapestry is indeed an aesthetic addition to your place. Choose polyester or cotton fabric, as both are available.
6. Natural Black Stone Lucky Amulet
Experts believe that the best of meditative benefits are achieved when you use an excellent accessory. This exclusive amulet designed from natural black stone is pretty useful in this case. This obsidian type pendant is a beautiful accessory for both and women if they are practicing meditation.
Various designs are available for this product, and it's up to you which one will you choose. Veterans, however, suggest wearing this amulet and other accessories while doing meditation.
Buddha symbolizes peace and calmness. So, when you are wearing this amulet, it's pretty evident that your mind will be already transported to a mindful and contemplative state.
7. Buddhist Wood Bracelet
Many Buddhist monks flaunt such a wooden bracelet as an accessory, but it's a great item to help you during meditation. This handmade product is beautiful and lightweight and comes with 108 wooden beads. It exudes positive vibes by every means.
It comes with a total of 108 wooden beads, which is perfectly in line with Buddhist Mantra. The product is made from wood and hence pretty durable. And, sporting such offbeat accessories will add to your style statement as well.
8. Tibetan Incense Sticks
The sweet smell is likely to maximize the benefits of meditation. The rich, pure, and earthy aroma of the Tibetan incense sticks are simply mind-blowing. It calms your restless mind and helps you concentrate. It soothes your weary soul and brings your mind to a peaceful state where it's easy to focus.
It's purely organic and made from herbs and spices. So inhaling it won't get you any sort of infection that you usually get from chemicals.
9. Egyptian Crystal Clear Pyramid Ornament
While being an aesthetic décor element, this pyramid ornament is a practical meditation accessory. It not only adds a classy poise in your living room but also lends you a perfect ambiance for meditation.
This ornament comes with mystic healing energy. So, when you meditate to cleanse your mind, body, and soul, this fantastic pyramid ornament is maximizing the benefit.
Made from glass, this crystal clear pyramid ornament is a pleasing visual treat.
10. Zen Garden Buddha Statue
11. 2 Pieces Resin Buddha Figurine
Well, having a statue of Buddha in front of you while doing meditation can intensify your concentration. But, do not opt for any statue that is readily available in the market. Look for top-notch materials as well as something that serves as home decor too.
The one we are talking about here is a resin Buddha figurine that comes in a 2 Piece Set. It's handmade and comes with a Sepia overtone. When placed in the living room, these figurines are likely to create a visual drama, while in the meditation room, they set an ambiance of calm and tranquility.
The figurine is available in soothing colors like Gold, silver, beige, and white. This fantastic product can make an excellent birthday gift as well.
12. Four Arms Ganesha Figurine
They say Ganesha invites wealth, happiness, and prosperity. But, it's also beneficial while meditating in front of it. Four arms Ganesha provides calm to your mind, and it further results in maximizing the effects of meditation. It is also believed to be an excellent option for married couples as well.
The product is hand-carved and is featured with several intricate detailing. It also serves as home decor, tabletop decor and can even put in the garden as part of the Red, Blue, Gold, Grey. What's more! You can also make it a fantastic birthday gift.
13. Evil Eye Bracelet
Meditation offers cleansing and rejuvenation of your mind, body, and soul. But, at the same time, you can also make some efforts to cast off the evil spirit, ideally the negative vibes. And, this evil eye bracelet is the perfect addition to your meditation gear.
First of all, this cute bracelet is no less than a stylish ornament. Wearing this amulet will instantly jazz up your trendy look while safeguarding you from negative vibes. You can still wear this amulet even when you are not meditating.
The bracelets come with an elastic band and can fit almost any wrist. It's designed from natural weathering agate stone with 8mm stone beads. In the middle, there lies a Buddha head, which is symbolic of the calm and tranquility it provides.
14. Healing Stone Set
Crystals are among the most crucial meditation gears. It's more of a healing stone that purges out negativity from within. These are the perfect addition for meditation or yoga rooms, but, you can choose to use it as a décor accent in the living room as well. As you know, healing stones are powered by cosmic rays that have a cathartic effect on the mind, body, and soul. Thus, it helps in healing even when you are sleeping. Hence, many people prefer having the healing stone set in their bedroom. But, no matter where you place it, the therapeutic effects are felt. You can even put it in your workstation to ensure peace and calmness of your mind.
Healing stone sets arrive in different design options. It instantly charges you up and revitalizes your drooping spirit.
15. Incense Burner
Having a soothing incense burner in your meditation room helps in attaining peace of mind. It also enables you to fall asleep fast. The soothing smell of the burner travels through your senses and soothes your chaotic mind and weary nerves. It leaves a therapeutic effect on you.
Designed with exquisite workmanship, this incense burner is a perfect visual treat. It serves as classical furnishing stuff that instantly adds zest to your interiors. The best part is this fantastic product works as a natural dehumidifier, which is wonderful. It is also featured with a backflow incense burner to create a smoke waterfall effect.
16. Fingertip Pulse Oximeter
This fantastic product is designed to provide optimum comfort to your fingertips. It is incredibly comfortable and easy to use. It gives an accurate reading of your pulse rate, without much manual effort. All you need is to wear this on your fingertips, and the device itself will perform the rest. This product is easy to operate and can be comfortably worn on your fingers. It is highly portable, which means you can carry it wherever you want. The product also comes with a separate pouch for easy storage. The body is of ABS plastic, and its alkaline batteries are used for charging it up.
17. Futon Cushions
Did you know how important is the posture, when it comes to meditation? Well, most of us do not know, and hence we are often far from realizing the maximum benefits of the meditation. Often a wrong posture triggers back pain, body aches, and similar stuff. The result is a delayed result, along with sore nerves.
Bring home these futon cushions for maximum comfort. These are 100% linen cushion, which offers maximum comfort to your skin, thus preventing any kind of chemical reaction on your skin. Apart from using it during meditation or yoga, you can sit on it to get some relaxation as well.
When required, you can wash it out as well. These oblong Japanese style cushions can also serve as your living room seating.
18. Meditation Painting Canvas
Well, this is not among the core meditation accessories, but you can obviously consider it as a home décor stuff. The canvas painting of Buddha in his meditating state is certainly a soothing visual treat. It adds a personality to your home décor drama while notching up a setting that reflects your exclusivity in every bit.
The canvas is made from chemical fiber, but it comes without a frame. So you can get a designer frame according to your choice and put it up on your living room wall. Designed with waterproof ink, this artwork is the outcome of an excellent spray painting. Indeed, it reveals the excellence of the artist and offers your home a graceful addition.
19. Handmade Meditation Necklace
If you have not heard about meditation necklace, it's time you get familiar with it. Why? Because here, we have a fantastic accessory that helps you concentrate on meditation and secondly works as a piece of jewelry. Made from high-quality Tibetan Silver, this excellent product is an eye candy in itself.
Mostly used for meditation and yoga, it helps in calming down your sore nerves and chaotic mind. The result is increased concentration and faster benefits. The best part is you can easily wear this amulet at any time of the year. Tibetan Silver does not wear out in the weather extremities, and hence, this necklace can be on your neck always. It's quite stylish and helps you don an ethnic persona.
20. Buddhist Prayer Beads
Buddhist prayer beads are one of the finest kinds of meditation accessories. It offers the same benefits that the rudraksha beads offer: the peace of mind and tranquility of the soul. It heals your mind by purging out the negativity inside you, thus accelerating the process of spiritual enlightenment.
A fashionable and useful accessory, this beautiful necklace improves your health and well-being and restores your peace of mind. Having one in your neck also protects you from evil eyes. Many people also choose to use it as a décor accent in their living room or bedroom. Made from wood, this prayer necklace comes with 108 beads.
21. Retro Brass Sitting Buddha
The figurines of sitting Buddha instantly perk up your mind. While doing meditation, it offers a holistic benefit to your mind, body, and soul. So, when you are keeping this in your meditation room, it gives you peace of mind. Designed from high-quality brass, this Buddha statue can be a visual treat in every possible manner. Whether you use it at home or at the office ( to deck up your workstation), this excellent product is the perfect pick. Even when you are travelling, carry it with yourself so that you can calm down your chaotic mind and meditate whenever you want.
As you know, Buddha figurines exude positive vibes in every possible manner. So, when you are keeping them in front of your eyes, it sets in an affirmative ambiance which rejuvenates your soul and leaves a cathartic effect.
22. Silk Religious Flags
Though it is not something related to meditation gears or accessory, the silk religious flag is a perfect décor item for home, shop or garden. These are incredibly colorful and designed with high-quality and bright color printings. It is made from artificial silk and makes an excellent accessory for home décor.
If you are looking for something amazing for the decoration of your living space, this religious flag is certainly a unique addition.
23. Obsidian Beaded Bracelet
This beaded bracelet is more of stylish jewelry, but it also purifies your soul from the negativities. Wearing it for an extended period of time helps you tread bravely through the obstacles that come in the ay of attaining luck and wealth. Designed from pixui material, this beaded bracelet is the accurate representation of wealth and success.
According to the experts, this obsidian beaded bracelet attracts positive energy. It attracts luck and fills your life with a bagful of positivity. As you know, meditation itself is a soul-cleansing process. When you are wearing this bracelet, it maximizes the effect. The result is the emergence of a completely "renewed" you with increased confidence and positivity.
This fantastic product designed from glass and resin makes a perfect gift idea for anniversaries and birthdays.
24. Vintage Copper Ring
A piece of ethnic jewelry, this vintage copper ring is an eye candy. Get this for yourself or your family members ad fill their lives with positivity. The scriptures on this ring are symbolic, and anyone can wear this irrespective of their gender. Wear this on your finger while meditating to realize the maximum benefits. However, you can keep this ring always with yourself to stay away from evil vibes.
It's highly durable and comes with corrosion-free features. This ring is resizable, and you can adjust it as per the size of your fingers. Wearing this for an extended phase is extremely helpful in building confidence.
25. Wooden Buddha Statue
If you are looking for a décor item that exudes positive energy at the same time, this is undoubtedly the perfect item for you. This wooden Buddha statue is an eye candy, and you can see tranquility set in the area where it is kept. It also creates a sense of serenity and calm. As a result, the nook where the thing is kept becomes your favorite corner when you come back home after a chaotic day.
A well-carved wooden Buddha thus makes a fantastic gift in birthday parties and anniversaries. It is a cute and small figurine that is lightweight and can be effortlessly put in your handbag or pocket.
Designed from Mahogany Wood, this excellent product is pretty durable, and it is brown in color.
26. Meditation Bracelet
A meditation bracelet is quite a useful stuff to those who are pretty used to with meditation. Wearing a meditation bracelet helps in increasing the benefits of meditation while working as a stylish accessory. It is a top-quality wooden bracelet with 86 cm in length. As a result, anyone can comfortably wear it. The bead size is 8mm, thus making it an excellent choice as a daily wear accessory. It has a vintage vibe, but at the same time, it is exceptionally stylish. You can wear it with your trendy attire as well. Moreover, it's extremely comfortable to wear. However, there can be a bit ( though almost negligible) of measurement difference between the picture and the actual product.
27. Mini Tibetan Incense Burner
Bring in good luck and prosperity with mini Tibetan Incense burner. It looks fantastic yet comes with excellent functionality. It oozes out a soothing smell that helps in uninhibited concentration. As a result, you can achieve the maximum benefits.
This handcrafted product is small and features a charming look. As home décor, this burner makes an impressive piece. Designed from alloy material, this is rust and corrosion-free. As a result, it does not get worn out too quickly. Available in color options like Red bronze and standard bronze, this product is undoubtedly a must-have in every household.
Place this Buddha statue in a place where you need ultimate calmness. It's ideal for placing in the meditation room, bedroom, and even in your office. You can also put it in the zen garden. It creates an ambiance of calm and tranquility, where you can meditate without getting restless.
Nowadays, it's pretty difficult to manage enough time from the busy schedule and meditate. Hence, many people prefer doing it in their office as well. With such an accessory in your office, you can easily make the most of it. This fantastic piece represents the ocean (sands) and the mountains (stones), which is also visually soothing.
How Beneficial Are Meditation Accessories
As you know, mindful meditation is not just a cleansing exercise; rather, it's about purifying and rejuvenating your mind, body, and soul. But, you must know what it takes to achieve the best of the benefits. It's the accessories. Meditation accessories are one of these things that go a long way to help you achieve your meditation goals. Whether, it's a meditation cushion, or a statue, or something like energy healing crystals, everything comes together to offer you a full-fledged benefit. Experts say that incorporating an entire fleet of meditation accessories in the process rejuvenates you from within, thus helping you improve your life.
Here are the reasons why you need to incorporate meditation accessories into your daily routine:
Builds Up the habit
You already know that contemplative meditation is more than just a practice. And, you should build it up. Unless you get the full-fledged benefit of meditation, soon you will lose interest. With a set of meditation utilities, your brain automatically programs itself to recognize the positive vibes from these products. As a result, you will get to know what kind of exercises help you get over the troubles. Using meditation accessories, along with some light, soothing tunes, allows you to get into that mindset quicker and start reaping the benefits of meditation.
Builds Up the mindset
Before you start reaping the benefits of meditation, you must learn to get into the mindset. And it's certainly not easy. You are likely to get distracted by a plethora of things. Often, you won't know whether you are actually meditating, or your soul is traveling to a far off land in your imagination. With the accessories in front of you, your restless soul gets a refuge, and you gain peace of mind. This way, you can reach out to the deeper states of meditation and can reap the maximum benefits.
So, what are you waiting for? If you are a passionate soul and all set to explore the benefits of meditation, it's time to get all those accessories and kick-start your journey of contemplative meditation.